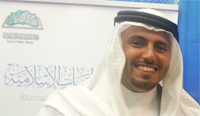 Dr. Esam A. Alwagait, dean of the Deanship of e-Transactions and Communications at King Saud University, was recently granted a meeting with the prestigious KSU's Islamic Studies Journal.  The Journal is a quarterly publication of the Department of Islamic Studies in the College of Education.
Dr. Ali Al-Sayah, the Journal's editor-in-chief, greeted Dr. Alwagait and gave a brief explanation of the publication, its website,i its activities and achievements.  Dr. Abdul-Wahab Al-Najjar, managing editor of the Educational Science Journal also attended the meeting.

Dr. Sayah described a new electronic application which could serve all university's periodicals and assist researchers to publish articles.  This new application would allow the researcher to select the journal of their specialization and then to upload their data with the research article attached.  At that point, the Journal's administration would take over, completing the reference procedure through the system and compiling accurate statistics of the research.
Dr. Sayah explained that much time and effort is saved using this system and that the transition from paper to digital is easily completed.  The Journal has drawn a comprehensive image of the workings of this application, which was discussed in detail.
Dr. Alwagait suggested a series of moves which might improve the technical standards of the Journal.  He also promised to study the Journal's new application and to implement it as soon as possible, working closely with the Journal's leadership.
The College of Education was founded in 1966 and works with the Ministry of Education to improve the academic standing of educators through ongoing programs, conferences and seminars.  The Islamic Culture Department of the College was founded in 1973 and the first issue of the Journal was published in 1977.
Related News