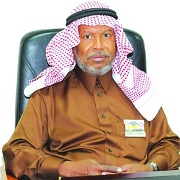 King Saud University's Celiac Disease Research Chair (CDRC) is holding its first Middle East session for Pedagogical Gastrointestinal Medicine on February  5-6, 2013 in the main hall of the College of Medicine at King Khalid University Hospital.
 The event is in cooperation with two renowned London hospitals,  the Great Ormond Street Children's Hospital and King's College Hospital (KCH), an acute-care facility. Six British researchers will join colleagues from Saudi Arabia and the Gulf region as speakers,  Dr. Assad Mohammed Assirri, the CDRC supervisor.
The session's objective is to raise awareness among physicians, nutrition specialists and other health care workers about gastrointestinal diseases, lactose intolerance and colon maladies such as ulcerous inflammation and celiac disease.
Celiac disease is a condition that damages the lining of the small intestine and prevents it from absorbing parts of food that are important for staying healthy. The damage is due to a reaction to eating gluten, which is found in wheat, barley, rye and possibly oats.
Those wishing to register for the session should e-mail to cdrc.ksu@gmail.com.
Related News