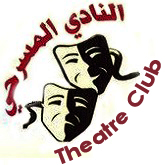 King Saud University's Student Theatre Club presented a play titled "Where to?" on December 24, 2012, in the Hamad Al-Jasser Theatre Hall B26 in the University's main lounge.
Written and directed by Fahad bin Abdullah Al-Shahrani, the play is about a meeting of six young men, all from different backgrounds and situations, in a room with no door or other means of exit.  Each young man relates his story to the others, hoping his tale will allow him to escape from the room.  Other developments follow as each tells his story.
The cast included Shoujaa Nashat, Abdullah Fahad, Mohammad Khalifeh, Abdul-Rahman Al-Dokhi, Mohammad Al-Madani, and Barrak Al-Hameed.  Production assistance was provided by Nashat, lighting was supervised by Malik Al-Khouwayter and Zeid Al-Sahli handled the audio.
Director Al-Shahrani said the play, through the existence of a doorless room, symbolizes man's struggle to free himself from a reality that is locked within.  The idea is that to save his life, each must escape the reality within.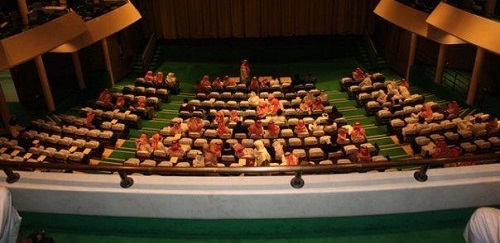 Though theatre historically has not been a major art in the Gulf Region, concerted efforts have been made in recent years to elevate its status and KSU has accepted the challenge.
In 2010, KSU student Shujaa Al-Qahtani won Best Actor at the 2nd Gulf Theatre Festival (GTF), hosted by the University of Bahrain.  This festival was created to encourage creativity, art and interaction among students of the Gulf Cooperation Council's student communities, as well as highlighting the culture and heritage of the Gulf Arab Muslim World.
Last fall, the Student Theatre Club staged the play "New Dawn" as part of the Loyalty and Commitment Festival, held in conjunction with the Deanship of Student's Affairs Introductory Fair and Saudi Arabia's 82nd National Day.
College of Medicine student, Naif Faez, formed the theatre youth group with director Khaled Albaz and two others, and conducted plays in shopping centers and malls to expose others to the theatre and performing arts.  Faez received Outstanding Performance awards in the Al-Jenadriyah Theatre Festival in 2006 and 2008 for his performances in KSU plays.  He also won the 2009 British Council's International Young Performing Arts Entrepreneur Award.
Mamdouh Baajajah, who began his stage career in 1995 in Jeddah's King Abdul-Aziz University Theatre, also has made a significant contribution to the performing arts. He formed the Al Rowad Theatre Group in 2000, focusing on social and children's theatre, and in 2006 he organized Saudi Arabia's inaugural film festival.
Related News