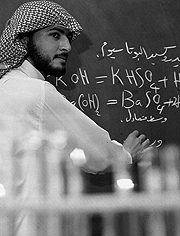 The Kingdom's Ministry of Education is planning to enforce a decision mandating that all of the Kingdom's educators hold a teacher's license that will be issued by a new central office located at King Saud University and  named the Center for Educational and Professional Development. Plans for the creation of this center were approved in a recent Higher Education Council session.
Dr. Mohammed Al-Sudairy, KSU Vice Rector for Business Development, told Al-Jazirah newspaper that the license project for teaching practitioners will be introduced at the new Center.  Licenses will be awarded to each teacher who successfully completes special training sessions, in agreement with the Ministry of Education, and in accordance with international educational norms tailored to enhance teachers' abilities and the teaching profession.  These norms will be utilized in the new Center consolidate developmental basics to guarantee quality.
Dr. Al-Sudairy said the establishment of the new Center at KSU came after many meetings between the University and the Ministry, culminating in an agreement between the two organizations.  It has not yet been established who will head the new Center.
Related News