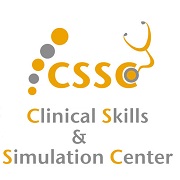 King Saud University's Clinical Skills and Simulation Center (CSSC) in the Medical Education Department will be offering a simulation course titled "Chest Tube Management" beginning February 21, 2013.  This course will run from  8 a.m. to 4 p.m. on the 2nd and 3rd Floors of the Medical Department at King Khalid University Hospital.
The purpose of the course is to use simulation and skill stations to teach a "hands-on" approach to chest tube procedure, including insertion and management.  The course is Continuing Medical Education (CME) accredited and is designed for doctors with little or no knowledge of chest tube insertion, or for those who require updating their skill and knowledge.
Course objectives include:
Understanding the physiologic response a patient may have leading to the need for chest tube insertion;
Understanding the difference between pleural, mediastinal, and pericardial tube placement;
Defining pneumothorax, tension pneumothorax, pleural effusion and hemothorax;
Describing the purpose of a pleural chest tube placement;
Understanding the purpose and function of each of the following in the chest drainage system:  the suction control dial and window, the one-way valve chamber with air leak monitor, the fluid collection chamber, and the negative pressure indicator;
Understand how to safely maintain a chest drainage system;
State potential risks for caring for a patient with a chest tube; and
Apply principles of safe care, properly monitoring and care of the patient. Included in the training is review of chest anatomy and a guide to inserting a chest tube using the Seldinger technique or blunt dissection.
Participants will gain skills in assessing the risks associated with chest tube insertion and analyzing difficulties, as well as refreshing their knowledge of the physiology of the pleural space, learning the principles of chest drains and suction and applying all of this to common management problems.
Instructors for this course will be:
Dr. Sami Alnassar, Head of KSU's Division of Thoracic Surgery College of Medicine
Dr. Waseem Hajjar, a consultant thoracic surgeon in KSU's Department of Surgery
Dr. Salah M. Rahal, Head of the Resarch & Studies Unit in KSU's Deanship of Skills Development
Dr. Ahmad Alkhatib
After the initial presentation on February 21, the course will be offered every other month, or according to necessity based on the number of candidates, and the cost is 500 SR per person.  More information may be obtained from the Clinical Skills and Simulation Center (CSSC), +966 (0) 14692653.
Related News