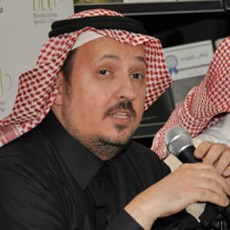 Acclaimed Saudi writer Dr. Munther Qabbani, author of the highly successful novels  "Shadow Government" and "Return of the Absent", has given a special audience to his fans at King Saud University's Reading Club.
His latest novel, "Knights and Priests", deals in a mixture of history, science and philosophy, discussing everything from the Mongol invasion of Muslim lands to the concept of time and the thin line between reality and fantasy.
Dr. Qabbani is well know for dealing in these complex themes, making his plots and storylines some of the most unique in the world of Saudi fiction.
His appearance at the Bocchino Cafe on Tuesday Jan 29th saw audience members arriving early to get a change to quiz Dr. Qabbani on the plot of his new novel as well as to buy autographed copies of the book.
His previous work has been popular among young people in Saudi Arabia and this novel is set for the same success judging by the eager turn out at the signing.
Dr. Qabbani said "Knights and Priests" will be the first part of a trilogy, with the second book set for publication some time next year.
Related News