In King Saud University's first forum for Arabic Language Institutes and Colleges in Saudi universities, KSU Rector Badran Al-Omar's message emphasised the religious and patriotic role of Arabic language institutes in spreading Arabic throughout the world.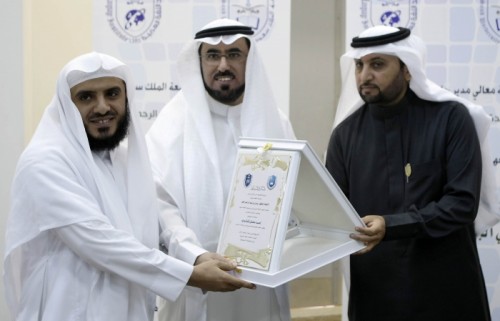 Rector Al-Omar did not attend the event, organized by the KSU Arabic Language Institute (ALI), but was represented by KSU Vice Rector for Educational and Academic Affairs, Dr. Abdullah S. Al-Salman, who presented read the rector's speech that went on to explain the KSU rector's views.
Rector Al-Omar emphasized that forums such as the one initiated by KSU can be the basis for the joint action and fruitful cooperation that KSU has always strived to establish between Saudi universities.
 He added that it was his hope that this first forum will be an initiative for coordination between Saudi institutes in matters such as registration, admission, scholarship grants, scientific research, preparation of curricula and linking of scholarships to the university and local communities in universities where Arabic is studied.
Rector Al-Omar also said he wants to help establish leagues for the alumni of these institutes.
"These and other topics are worthy of concern and follow-up," Dr. Al-Salman said reading Rector Al-Omar's conclusion, " and it is the duty of the deans of these institutes to coordinate, to exchange expertise and advice to bolster strong points and to avoid drawbacks for the benefit of all."
Following Dr. Al-Omar's message, Dr. Saad Al-Kahtani, Dean of KSU's ALI, spoke.
He said this first ALI forum is one of the initiatives of the fourth objective of his institute's "Strategic Plan," which is supported by KSU and supervised by the ALI.
The overall objective, he said, is two-fold: to conduct an ALI forum for KSU deans this year and to hold an international ALI conference in 2014.
Dr. Al-Kahtani said his institute is already working to receive, referee and publish research papers to include in a proceedings book for the conference.
The Dean said topics to be addressed by the forum include the possibility of increasing the number of scholarship students within the five percent ratio mandated for Saudi universities, knowing that some Saudi universities increase graduate studies scholarships at the expense of Arabic language scholarships.
Dr. Al-Kahtani explained that the five percent ratio is good for non-Saudi students, but does not take into consideration the situation of Arabic language institutes.
He said he hopes KSU will adopt a plan exempting the institute from the University's fixed ratio and increase the number of students.
He believes this will create an opportunity to attract distinguished students to fulfil the objectives of scholarships in general and contribute to fulfilling the objectives of KSU's strategic plan in particular.
A number of Arabic Language Institute Deans from around Saudi Arabia were honoured at the end of the ceremony.
Related News