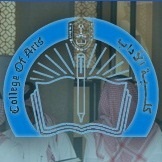 Schedules, sign posts, books and notebooks in Braille are some of the more obvious signs King Saud University is listening to special needs students, and may well be appearing around the College of Arts soon.
A group of special needs students met with Dr. Mansour Al-Zamil, the Vice Dean for Academic Affairs, at the invitation of the College of Arts to find out what more KSU could do for blind students and others requiring extra assistance with their studies.
Dr. Al-Zamil told  assembled students the College had an open door policy to any questions or problems put forward, and invited anyone with concerns to feel free to discuss issues with faculty and staff.
Mohammad Al-Anazi, a student at the College, said students wanted to meet periodically with the college's administration to keep lines of communication open between the groups.
More use of Braille,and the provision of more Braille equipment was important to the group, with Mr Al-Anazi saying it would help visually impaired students to print hall names and schedules in Braille.
Also he requested a hall or two be set aside for exams for visually impaired students so that those taking exams would be able to raise their voice at will without disturbing other students.
Eid Al-Shamri, another student at the college, asked for KSU to employ more specialty staff to provide services to special-needs students.
He also said it would be very beneficial to special needs learners if the KSU internet portal was made compatible with software for the visually-impaired, and notebooks and reference books converted into Braille.
Dr. Al-Zamil said all suggestions would be taken into consideration and what the College cannot implement by itself would be refered to those with the authority to do so.
Related News