World renowned businessman and philanthropist Sheikh Mohammed Al Amoudi recently visited King Saud University, meeting with KSU Rector Badran Al-Omar to discuss the progress of KSU endowment projects funded by the Sheikh.
The meetings, held in the VIP Lounge in University Center, were also attended by KSU Vice President Abdulaziz Al-Ruwais, secretary general of KSU Endowments Abdulhamid Al-Abduljabbar, and the manager of the rector's office, Mr. Khalid bin Rashid Al-Meshari.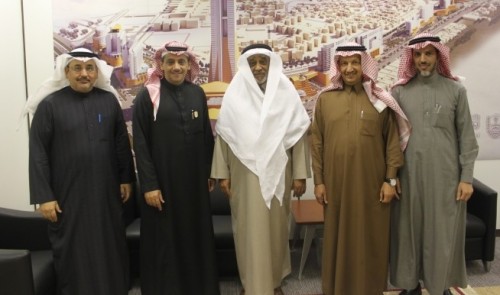 After the initial discussions, the rector, vice president, and secretary general escorted the sheikh for a visit to the Endowment Center and a tour of the permanent endowment exhibition.
The sheikh inspected scale models of the various projects and was given detailed explanations by Rector Al-Omar and Al-Abduljabbar.
Rector Al-Omar expressed his pleasure at the opportunity to meet with the sheikh, a key supporter of KSU's endowment program.
KSU Endowments was launched in 2007, and with continued help from supporters like the sheikh, the endowment has worked to improve operational and educational spheres at KSU.
Sheikh Al-Amoudi is a billionaire businessman who has supported various healthcare and sport projects in Saudi Arabia, the United States, Europe, and Africa.
The sheikh has also funded a breast cancer research centre at King Abdulaziz University in Jeddah, KSU's enhanced oil recovery research chair, and KSU's King Abdullah Institute for Nanotechnology.
The sheikh has been ranked among the world's 100 richest people by Forbes since 2006, received an honorary doctorate in philosophy by Addis Ababa University, and has been honored with the Order of the Polar Star, a Swedish order of chivalry, by King Carl Gustaf XVI of Sweden.
He has also been jointly honored by the World Bank and U.S. State Department for his work in supporting African development.
Related News