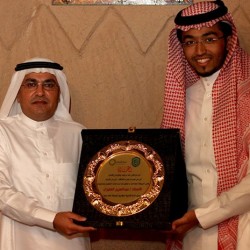 Members of the King Saud University's Mojtm3e Volunteer Club recently held a reception to honour its former advisor, Abdulaziz Al-Onaizan, at the Restaurant Al-Najdiyah Village in Riyadh.
The club invited members of all university club members, male and females, and KSU club advisors.
Al-Onaizan, an honorary Mojtm3e member, was recognized for his assistance in the club's founding and his long-time leadership.
He has remained an unofficial counsel and has extended his  support since resigning his leadership role.
Club members read poems and sang during the ceremony and concluded the event by presenting Al-Onaizan a memorial shield.
In his acceptance, the former Mojtm3e leader expressed his appreciation for the honour and congratulated members for their continued unyielding services within the university and community.
Related News