Riyadh Community College (RCC), a part of King Saud University, recently held its second student meeting for the 2012-2013 academic year, honoring 18 outstanding students.
The college established standards for awards of excellence, with a minimum grade point average of 3.5 and a minimum attendance percentage of 90, along with consideration given to participation in extracurricular student activities.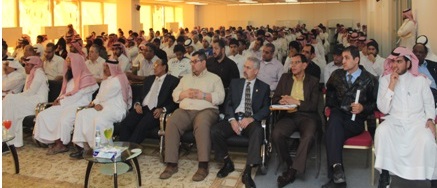 RCC Dean Abdulaziz A. Al-Khedhairy noted the importance of the awards and the role they play in fostering a student's sense of accomplishment and perseverance, along with helping in enhancing behavioral discipline and potentially increasing participation in extracurricular activities.
The Dean stated that students ranked as outstanding are a main focus for the college, demonstrating the school's improvement and development in preparing students for the labor market and suitable job opportunities.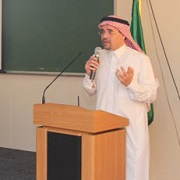 Dean Al-Khedhairy urged students to enhance their intellectual and practical potential by utilizing courses offered by the Training and Employment Support Unit, and also to take advantage of offers made by companies who give employment priority to RCC's students.
The Dean stated that RCC always tries to encourage students, believing they possess the capacity to excel and will attain the necessary skills to achieve excellence.
He said his door is always open for students and that he is available to discuss any student concerns.
RCC's Vice Dean for Academic Affairs, Dr. Khaled Alrajeh voiced his support of the points covered by the Dean, and urged students to compete with each other in working for the college's Excellence Awards.
Dr. Abdullah Al-Zahrani, Vice Dean for Administrative Affairs, explained the services offered by the Training and Employment Support Unit, and how these services can be used by students to enhance their skills and abilities, increasing their chances for employment.
Closing the ceremony, Dean Al-Khedhairy honored the 18 students who achieved excellence, presenting them with their prizes and certificates of merit.

Related News