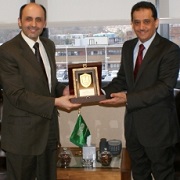 King Saud University Rector Badran Al-Omar, has visited the Saudi Cultural Attaché in London during a trip to the United Kingdom to connect with Saudi students.
The cultural attaché, Dr. Faisal Aba Al-Khail, met with Professor Al-Omar and his delegation, discussing the need to chart the educational progress of university students, discuss their needs, and provide them with necessary facilities in the UK.
Professor al-Omar expressed his gratitude to the Ministry of Higher Education for its constructive efforts in providing the best services for students with scholarships to achieve while studying overseas.
Currently 384 students from various academic stages study in the UK on scholarships from the Ministry.
At the same time as the rector's visit the dean of faculty and staff affairs, Saad Al-Hussein, and the head of the development of human resources management at the Deanship, Faisal Al-Harby, held open meetings with the male and female students studying at British universities.

The goal of these meeting was to reinforce the responsibilities of the university towards its students while they are abroad, getting to know their concerns and overcome obstacles in their way that might hinder their educational progress.
Financial procedures and administration procedures dominated the meetings which had not been clearly explained.
They also clarified the mechanism used to transfer a student with a scholarship from one university to another in the same country.
Dean Saad al-Hussien said that he was very pleased to meet with students, explaining that KSU  is keen to hold such meetings outside Saudi Arabia to keep in touch with students.
Related News