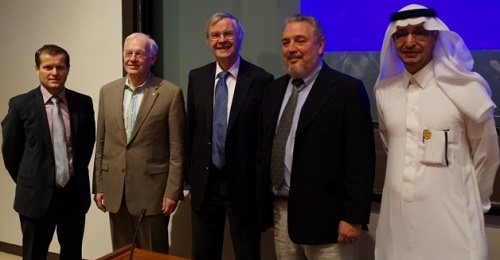 A Noble Prize winner was amongst a group of eminent physicists meeting staff and students during a special visit to the King Abdullah Institute for Nanotechnology at King Saud University earlier this month.
Professor Theodor W. Hänsch, Nobel laureate, Physics, 2005, professor Paul Kourkom, from the University of Ottawa, Canada, and the director of Max Planck Institute of Quantum Optics in Germany, professor Ferenc Krausz, all visited KSU's nanotechnology facilities on April 1.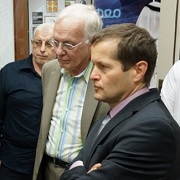 Professor Krausz and professor Kourkom had been specially invited to receive the King Faisal International Prize for Science for 2013.
The scientists inspected current research in the fields of water, power, medicine, and how to chemically prepare samples for nanotechnology using deposition via pulse laser and the different ways to detect properties of such material.
Following this professor Hänsch gave a lecture entitled "Laser Frequency combs - applications from the atomic to the cosmic scale", which was attended by researchers from the institute.
The lecture was also live broadcast for girls to the Center for Scientific and Medical Studies at the Al-Malaz campus.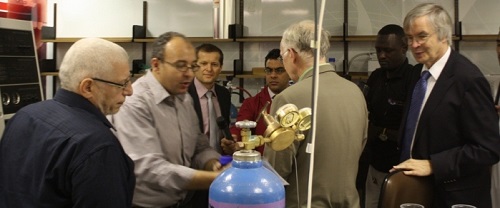 Also in attendance was the dean of the Institute, professor Abdullah Azzeer, and the under secretaries of the Institute, professor Zeid Al-Othman and professor Mansour Alhoshan.
Related News