The first Annual Scientific Forum for graduate studies' students, hosted by the Deanship of Graduate Studies, is set for this Wednesday, April 24, and will showcase winners of recent research contests from among graduate students.
The number of awards is estimated to be worth 110, 000 riyals, or almost $30,000 USD.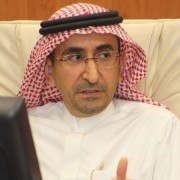 The dean of Graduate Studies and the head of the supervisory committee at the Forum, Ibrahim Al-Harkan, said the forum was the result of the deanship's efforts to reinforce a culture of scientific research as well as to further develop the university's research skills.
Al-Harkan said the college wants to imbed a culture of scientific sharing with such events and has plans to increase the number of conferences, seminars, and workshops for students to help motivate them to excel.
Al-Harkan added that scientific research is the center of the scientific process and taking care of it is vital and necessary to revolutionize higher education both in the Kingdom and internationally.
He highlighted that KSU is dedication to improving and encouraging scientific research in all of its forms, and reaffirms its commitment to the goals of being an international educational participant.
Al-Harkan concluded by wishing everyone success and said he hoped students benefit from the forum, which is being held for them.
The head of the Scientific Committee for the forum, Othman A. Al-Shabanah, then spoke giving more details about the research competition.
Al-Shabana said the scientific committee had received a total of 257 research proposals from hopeful applicants, a majority of which were science students.
The winners will be announced publicly at the forum on Wednesday for male students, and on Thursday for female students at the Hamad Jasser Dir'iyya hall.
Related News