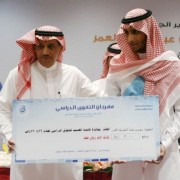 A ceremony honoring 144 King Saud University students who won the Dean's Award for Academic Excellence was held last week at the University's main Riyadh Campus.
KSU's rector, Badran Al-Omar, attended the event on April 22, and awarded academic excellence shields in celebration of the student's outstanding academic performance.
In his keynote address Al-Omar said the students understood the value of hard work and perseverance in creating their future by excelling academically.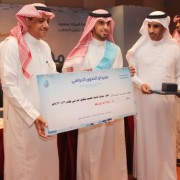 Al-Omar added "students are the university's source of pride and indicator of the success of its academic program," and reemphasized the university's commitment to supporting excellent students.
The event was also an opportunity to announce the recipients of the five thousand riyal award given to the top two accomplished students with a perfect grade point average, one female and one male.
Other highly successful students were also rewarded; the dean of student affairs at KSU, Fahad Hamad Al-Qurainy, presented the top five achieving female and male students with a commemorative medal and a check.
A display of the Dean's Award receipts will also be featured on the faculty's honor board.
Related News