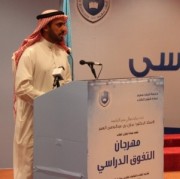 Outstanding students specialising in the sciences at King Saud University have been honoured during the recent Academic Excellence Festival held Monday, April 22 at the Al-Druwaza Hall.
The dean of Skills Development, Abdulaziz Al-Othman gave the keynote address for the occasion and congratulated the students and took the opportunity to encourage them to continue excelling.
Al-Othman added that the students made their nation proud and would be effective contributors to its renaissance in various scientific and developmental fields.
He then concluded the address by thanking the university for hosting the honorary festival as a means to further motivate KSU students and hoped all of the students would continue in their success.
Related News