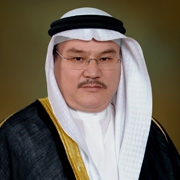 King Saud University has proved it's on the cutting edge of research again with a new  orthodontics system receiving official recognition from the European patent office this month.
The invention of Dr. Mohammed Taher Bukhary, a faculty member at the College of Dentistry, is a clinical tool which aims at tilting the anterior teeth, a disease known as an oral curvature, and pushing them forward to correct the curvature.
The device is comprised of circular, non-steel, medical wire in two pieces, one is the swing and the other is a wire that pulls back the braces, tied to the brackets of the braces, which are cemented on the patient's teeth.
As well as it's orthodontic applications the device has a number of other scientific applications that are particularly useful to patients who suffer from a malocclusion of the upper jaw of the third category in addition to patients who suffer from disfigurements in their upper jaws, as well as patients who have a cleft upper lip.
It is particularly beneficial to people suffering from any curvature of the lips in relation to the upper front teeth.
The device received European Patent Number EP 2489325 on Wednesday May 1 and has been submitted to the Patent Office in Saudi Arabia and the United States Patent and Trademark Office.
Related News