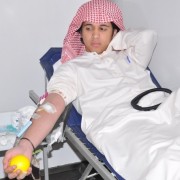 Students and staff have come out in droves to give blood in the annual Preparatory Year Deanship blood donation campaign at King Saud University.
The first donation centre in the Preparatory Year Hall witnessed many staff and students coming to give blood over the five days it operated from Saturday May 4.
Meanwhile more than 60 staff members have turned out to give blood at the Social Service Unit at the Center for Training and Social Service at the College of Sports Science and Physical Activity at King Saud University.
Here blood was taken from Monday April 29 until Wednesday May 1, in front of the college's temporary headquarters near the air dome at KSU.
Doctors, nurses and officials lauded people for their dedication to performing humanitarian works, such as donating blood, to help society.
Related News