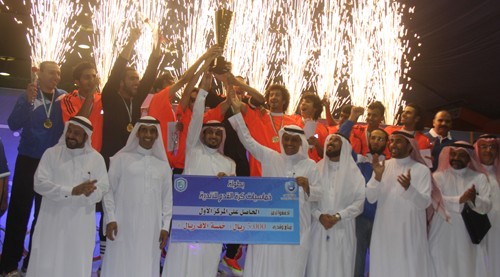 The closing ceremony for student activities for the 2012/2013 academic year was held last Tuesday in King Saud University's Hamad Al-Jaser Hall.
The Deanship of Student Affairs sponsored the ceremony, which was attended by the dean of Student Affairs, Fahad Hamad Al-Qurainy, along with several other deans of colleges at KSU.
The ceremony featured a screening of a documentary film on the activities of the Deanship of Student Affairs over the last year.
The launch of a new sloganksu for the Cultural and Social Activities Administration at the Deanship was also part of the day's events.
Al-Qurainy gave a speech expressing his gratitude and appreciation to the Rector of the university for his sponsorship and unlimited supported for the Deanship of Student Affairs and its activities.
His speech was followed by one by the Rector of the King Saud University, Badran Al-Omar who welcomed the audience, and expressed his gratitude and appreciation to the Deanship of Student Affairs for the great ceremony.
Al-Omar stressed the importance of student activities as a part of an all-inclusive academic career.
Al-Omar also announced the awards for the top achieving male and female individuals at the Minister of Higher Education sponsored Fourth Scientific Conference for Graduate Students.
He also praised the achievements of outstanding students from all the colleges of the KSU, and also announced the winner of the KSU-wide 'Ideal Student' competition, Ibrahim al-Namla from the College of Engineering.
Related News