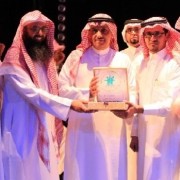 King Saud University's Riyadh Community College has won first place for volunteering in a university wide contest for the 2012-2013 academic year.
The award was announced during the annual end of the year ceremony highlighting student activities hosted by the dean of Student Affairs last week.
The prize was given to the institute that worked the hardest to deepen constructive interaction with different segments of Saudi society.
Students at all levels and at all colleges university-wide attempt to build partnerships with charities, government and private institutions by volunteering and building critical bridges between KSU and civil society.
Dean of Student Affairs Fahad Hamad Al-Qurainy said the prize was an incentive to stimulate students to be active members of the community, and to share the spirit of initiative and positivity.
KSU has a variety of programs and multifaceted community service opportunities in education, social, cultural, and health divisions, that not only benefit students and KSU, but Saudi Arabia as well.
Related News