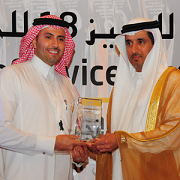 King Saud University, represented by the Deanship of Electronic Transactions and Communications, has been named the winner of the 2013 award for excellence in electronic initiative at the 18th Middle East Excellence Awards.
Esam A. Alwagait, KSU's dean of e-Transactions and Communications received the award for the best electronic initiatives at the event, held at the Ritz Carlton in Dubai earlier in May.
The award honours the achievements of developers and experts who are revolutionizing e-government and e-services in the GCC.
Earlier this year, KSU's Deanship of Electronic Transactions and Communications launched a brand new online portal for the University, which included a suite of e-services for students, staff, and faculty.
The object of the Middle East Excellence Awards' electronic award is to honour the most prominent and important innovations in the application of information technology solutions and communications for government and e-services.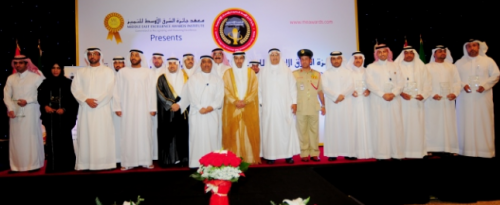 Alwagait said the award recognizes the leading role KSU plays in the field of e-services, and expressed his gratitude to KSU Rector Badran Al-Omar for his continual support and encouragement.
Alwagait said that the award's distinction was also reflected by the number of high calibre regional and international organizations and institutions that were also awarded for their achievements.
Issa bin Mohammed Rawas, the under-secretary of Saudi Arabia's Ministry of Hajj, and Ahmed Saeed Bin Hazim, the director general of Dubai courts in the the United Arab Emirates, presented the award.
Related News