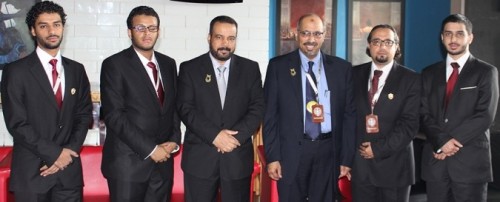 King Saud University Rector Badran Al-Omar pushed for KSU to participate in a recent international exchange trip last month, that brought together KSU students with fellow university students in Indonesia.
A number of KSU's outstanding students participated in the seventh international trip, launched on June 7th, and designed to foster the exchange of ideas between Saudi students and others on a global level.
Rector Al-Omar's support is part of the University's push to further the experiences of KSU students, and the opportunities provided to them, and to help them to engage internationally.
The annual trip to Indonesia is organized by the International Union of Muslim Scouts – one of the organizations of the Union of Islamic Corporation.
The Vice Dean for Development and Quality at the Students Affairs Deanship, Ali Abdullah Al-Baker, headed KSU's delegation.
Secretary-General of the International Union of Muslim Scouts, Zoheir Bin Hussein Ghoneima, also acted as trip organizer and supervised the various delegations from a number of Saudi universities.
The program began with an introductory meeting for all participating delegations, and included a workshop entitled 'Love of the Country: Peace Messengers,' which embodied the spirit of the trip.
Part of the visit included various trips by the participating delegations to universities in Indonesia, including Jakarta Islamic University and Syarif Hidayatullah University.
Saudi students were met by university officials who took them on an informational tour of the programs and activities offered at the respective universities.
The Saudi delegation also partook in various organized tourism trips around Indonesia, highlighting the cultural landmarks of the country.
Related News