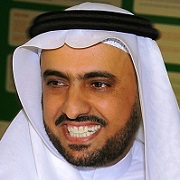 The dean of Skills Development, Abdulaziz Al-Othman inaugurated a new English Language Program for medical imaging technicians at the King Khalid University Hospital early last month.
The vice dean of programs and training, Dr. Mohamed Alharthi, head of Radiology and Medical Imaging, Dr. Fahad Albadr, and the general supervisor of general radiology unit and Chief Technical Officer, Saleh Al-Anzi were all present for the event.
During his welcoming address to the participants of the program in the Department of Radiology and Medical Imaging,  Dean Al-Othman discussed how the implementation of the program represented a valuable opportunity for the College and King Saud university.
The chance for technicians and workers to develop their language skills is a great opportunity to aid in furthering the dynamic and critical importance of the health disciplines at King Saud University.
Dean Al-Othman added this is the first time the program will be conducted, raising the level of the faculty's scientific practicality, and also discussed the future of the program, which will include specialized courses.
The program's topics include grammar, vocabulary, specific terminology related to the health sector.
English writing skills are also highlighted in the context of administrative tasks, as are listening skills.
Related News