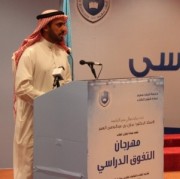 King Saud University's dean of  Skills Development, Abdulaziz Al-Othman, honored the staff of the deanship's coordination unit in a ceremony last month, recognising their efforts and highlighting the outstanding performance of three employees in particular.
Mr. Omar AlMajid , Mr. Abdul Rahman Al Shahry and Mr. Masha'l Almosher, were all recognised for their outstanding achievements during the 2012-2013 academic year.
The ceremony, held a the deanship's training hall, was attended by the vice dean for programs and training, Mohamed Alharthi, and Abdul Majeed Aledeiany, the chairman of the deanery coordination unit.
In his speech at the ceremony, Al-Othman said it was a priority of the deanship to invest in outstanding employees by providing training programs for personnel that matched their areas of speciality.
He also said that honoring its staff was "the least the deanship could offer," and that the celebrations not only recognised their efforts, but were also intended to be an incentive for outstanding and creative staff performance.
Related News