Main, Meetings, Graduate Studies

Monday 1434/11/11 on 2013/09/16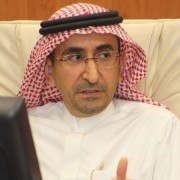 The Graduate Studies Council has held it's first meeting of the new academic year at the deanship's headquarters, presided over by Graduate Studies dean Ibrahim al-Harkan. The meeting saw the Council agree to amend King Saud University's dentistry joint program plan in order to bring it into line with general graduate studies regulations.
The Council also agreed to modify the study plan for the doctoral program at the Department of Art Education, adding an additional 6 hours to the program as per item 10 of the Uniform Rules for Graduate Studies. The amendment is expected to be in place by the 2014-2015 academic year. Al-Harkan said that the council reviewed a memorandum allowing students who were accepted into graduate programs, but were unable to complete all admission requirements, to defer their acceptance for up to one academic year.

Related News