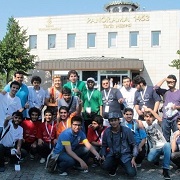 Preparatory Year students from King Saud University travelled to Turkey recently on a trip organized by the PY Deanship that saw them develop skills they learnt in PY programs as well as explore the capital, Istanbul.
A spokesperson from the PY said that Turkey was chosen for the trip because of its recent rapid development and contemporary renaissance.
The group of students had a chance to visit the Bosphorus and Topkapi Palace Museum, including murals about Mehmet the Conqueror, which describe in detail the events of the conquest of Constantinople.
During the trip the students also participated in two programs: a workshop to find practical solutions to the real problems faced by youth, and a lecture by an expert in contemporary Turkish development, Yashar Ahmet.
A meeting with Dr. Yashar Ahmet, one of the specialized people in the Turkish Renaissance where his talk was about
The students also participated in a range of sporting activities, and also visited Yalawa waterfall and local markets.
Related News