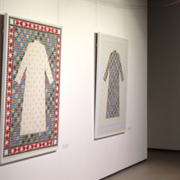 Lomar Thobe launched its [Un]stitched art show at Riyadh's Nalia Art Gallery on Tuesday, September 10, with HRH Princess Ameera al-Taweel in attendance as the guest of honour.
The show brings together a range of works by 10 contemporary Saudi artists that take the traditional thobe as their subject, and use it to challenge the boundaries implicit in Saudi society.
KSU News had the opportunity to speak with artist and KSU alumni, Dania Alsaleh, about the selection of her paintings on show at [Un]stitched.
KSU: Can you briefly introduce yourself to our readers? 
Dania Alsaleh: I am originally from Riyadh, after graduating from King Saud University, I settled down in Jeddah starting a new family of my own. I have always loved Art, so I applied to study drawing and painting with Dorothy Boyer at Dar Safia bin Zagr. I also took summer courses in London at St.Martin, Slade, Princes School of Traditional Art, and the Art Academy.
What did you study at KSU?
I studied Computer Applications.
That's a long way from the art world. Does your major ever impact your work as an artist?
I've learned that whatever information we take-in impacts our decisions whether consciously or unconsciously. My major must have contributed in the way I look at things and the way I think, weather I am aware of it or not. It has been a cumulative process.
How do you understand the exhibition's statement "…spotlight on the thobe as an important part of Saudi society, and an artistic subject"?
The thobe has been embedded in our culture for such a long time that we only think of it as a garment that males wear in their daily lives. It's simple basic straight cut one takes it for granted, but even in it's simplest form and basic stitching, it has a concealed complexity, a hidden story that needs to surface for all to see.
How do you usually work? Do you start with a concept in mind, or gather your material and then decide how to put it together?
Although I love oil painting, my first love is water colour. My process always starts with an idea, then I play with it by sketching it first on a small paper, and then experimenting with  the colour palette.  Once I have finalised everything, I start the painting on the actual watercolour paper. This process of fine tuning the idea may take from a few days to a few weeks.
How is being in Saudi Arabia integral to your work as an artist?
It is part of who I am. One can not help but use ones own cultural heritage in one's work .
What overall themes do you pursue? 
I am fascinated with the relationships between humans and how can you capture that in shapes and colour .
What does the thobe symbolise to you?
The thobe symbolises the males in my life… my grandfather, father, uncles, brothers, husband and son.
What about the future of art in Saudi? Do you think the country is opening up to work and shows that question tradition like [Un]stitched?
Definitely ! I think what Lomar did was genius. Bringing forward Thobe evolution, merging Tradition with the future, expressing it in an artistic approach.
Art is primarily about exploration. Is that same essential spirit here in Saudi as well? 
There are amazing talents in Saudi, contemporary artists with massive flair and panache. The work that these artists are producing would knock you out. Without any doubt, there is undeniably an exploration of art within Saudi Arabia.
You can view Dania Alsaleh's work on Instagram at @Daniaton, or on Facebook at Dania S. Alsaleh.
[Un]stitched runs until September 30 at Naila Gallery on Riyadh's Al-Takhasussi street.
Related News