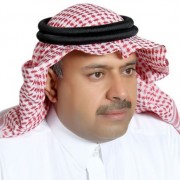 King Saud University has notched up a number of considerable international achievements, not least among these is its scholarships programs.
KSU's Rector, Badran Al-Omar, has shown particular interest in supporting scholarship students, following up on their affairs, and working to increase the number of students on international scholarships.
The University currently has over 1700 male and female students participating in scholarship programs.
This month, KSU News had the chance to speak with the dean of Faculty and Personnel Affairs, Saad Al-Hussein, who shed some light on KSU's scholarship program, and how the university is working to attract outstanding students from the famous King Abdullah Scholarships Program.
KSU: Can you explain some of KSU's efforts in supporting scholars and how scholarships support university efforts to achieve international leadership.
Saad Al-Hussein: While the university seeks international leadership, the university administration believes that achieving international leadership would not occur except through continuous work from all areas or sectors in the university starting from rectors concerned with scientific studies, scientific research and also human resources in the university. And we have a whole department in the Deanship of Faculty affairs that is concerned with scholarships and training.
Can you tell us more about the deanship: its emergence, tasks, and its role in serving scholarship students.
It is a large administration/ department that has been established for a long period, aimed at serving scholarship students and helping them get accepted to international universities.  We re also targeting international leadership, which means being among international universities, which will only be achieved through concentrating on certain issues including scholarships for assistant professors and lecturers at renowned international universities.
And we at King Saud University are under the umbrella of Ministry of Higher Education, and therefore we cannot send or delegate any of the teacher assistants or lecturers at King Saud University unless they are on the list of the Ministry of Higher Education.
And at the present time, and as per directions from His excellency the University Rector, we have started establishing a program named "New World", which is available now on the University website. Scholarship students can logon and register their individual information including the name of the university they are studying at and his specialization. Accordingly, he receives the award, which is conditional on the university being among the best 50 universities worldwide according to the Shanghai ranking. It is an incentive award for students to be outstanding, and the aim is firstly moral, not material. We also have another program, which is to attract the top students from the King Abdullah Scholarships Program.
What is meant by the delegates of King Saud University? Are they teacher assistants and lecturers only, or does it include other categories?
Actually, there are other parties included, where human resources delegates teacher assistants, lecturers and outstanding employees, either to continue their postgraduate studies or for training courses.
How are students selected for the Delegation Program for the King Abdullah Scholarships Program?
This is a very important issue and very important question too. But before answering, I have to note that the University is a forerunner in visiting scholarship universities as it has organized two visits: the first was headed by the Rector when he was the dean of Faculty Affairs two years ago. The second took place last year. Developing the program to attract outstanding students is a task that KSU completely believes in, and its necessity for many reasons, including that the King Abdullah Scholarships Program is regarded as a major contributor to the development program of Saudi Arabia. Also, delegates are not limited to a certain country, but the whole world is open to them, with attention to variety and ensuring that outstanding universities in developed countries with high international rankings are selected.
The University continues to perform its role, and is still attempting to attract the most outstanding among these graduates to join King Saud University to become active members, whether as faculty or researchers. We now have two pathways for the project: the first pathway focuses on attracting outstanding graduates from the King Abdullah Scholarships Program to become faculty members at the university, to become assistant professors or lecturers. The second is attracting them as researchers to work in KSU's numerous research centers. We have succeeded in attracting a significant number of them this year, and they are in the process of being employed by the University.
Do you have a specific number?
In our last trip we had 147 scholarship students we met and presented our proposals to attract them, and the program has a website that accepts requests from all over the world.
Are there any specific specialties KSU is looking to attract under the Program?
No. As before, the University asks all academic departments about their needs, and then considers these needs when going to scholarship countries to select the best among students. The specialties most in need are in the medical and scientific fields.
You said that the scholarship is not restricted to one specific country. Are there countries that reject the University, or who you prefer not to send scholarship students to, for example the UK, due to the high number of Saudi students?
Truly, there is no rejection and all countries are open, but the University has put in place a system that organizes scholarships according to certain standards. For example, in the UK, upgrading often happens directly to doctoral degrees without completing a master's degree. The University does not prefer this, and it stipulates that scholarships to the UK should be to a University that combines academic subjects and research. The aim of all these norms is to improve the quality of the final product, which is the graduate. Also, among the University's conditions is that universities chosen for scholarships must be among the best 100 universities according to Shanghai ranking.
Recently, you visited the scholarship students in the US, UK, and Canada. Tell us about the aims of that visit and its most important results.
Our visit had two goals: the first was to meet university delegates and discover their needs, and to meet some of their supervisors to highlight KSU's role. In addition, there are the social and psychological aspects. The other goal was to attract the outstanding among them, so we worked along with Saudi student clubs abroad and conveyed we to the students studying there the keenness and care of KSU for them and their future. We concluded these visits by meeting with the cultural attaché in the country and discuss with him the issues faced by scholarship students and the need to take urgent decisions, as the delegation has complete authority given by KSU's Rector. We also meet scholar supervisors.
Do you attract scholarship students from other places? Does this cause you any problems?
We do not infringe upon others' rights, but if there are any scholarship students to other places, there are certain mechanisms for such cases and there has to be approval from the other party. Our main focus is on scholarship students from the King Abdullah Scholarship Program who do not already belong to specific places.
What are the most important results that came out of that visit?
I think we participated in solving a lot of problems that our students face abroad like being transferred from one university to another, or specialization, or extension of a scholarship, as the delegation consisted of experts in scholarship problems.
From your point of view, what are the difficulties and obstacles that scholarship students and programs still face, and how do you evaluate the seriousness and discipline of scholarship students?
A scholarship student does face some problems in the period when he does not attend and the extension period, and this period has to be quick. So, the university has taken positive steps in this field and freed it of some long bureaucratic procedures. I don't blame colleges but we have witnessed delays in colleges, and so there is an approval from the University Rector to accelerate the procedures at all colleges in general. And to say the truth, I found all scholarship students disciplined, as did the Saudi cultural attachés in the UK, US, and Canada. The students have no real problems, academic or social, in relation to western societies or working in them. The reason for this is that we send outstanding scholarship students, and age plays a role in that too. I haven't received any problems here.
Related News