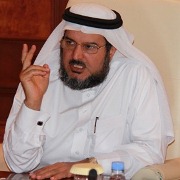 The vice rector of Development and Quality at King Saud University, Fahad M. Alkolibi, has launched the new electronic portal of the Rector, as part of the aim of promoting KSU's outstanding services at the University and society.
Alkolibi said that the Rector has been keen to include all of he has aimed for, and use of the latest technology while keeping in mind the needs of all benefitting parties.
Alkolibi also said  that this comes as part of the rectorate's passion to continuously communicate with all parties in and out of the university, and achieve the rectorate's goals.
He explained that the development took place in cooperation with Deanship of e-transactions and communications and was executed by the portal's administration.
The dean of e-transactions and communications, Esam A. Alwagait, the manager of the portal and members of the vice rectorate website, as well as members of the public relations and media unit attended the launching ceremony.
Related News