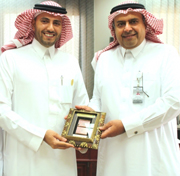 Esam A. Alwagait, the dean of eTransactions and Communication at King Saud University has been recognized for his work and contributions to e-service development by the Deanship of Faculty and Personnel Affairs.
Dean Alwagait, received the award at the eTransactions and Communication headquarters, with the dean of Faculty and Personnel Affairs, Saad Al-Hussein, thanking Dean Alwagait and his colleagues for their work.
Dean Al-Hussein said that the deanship is an essential partner in the success of the range of e-programs that serve the University's students, academics, and staff.
The deanship has recently launched a range of services, including a conference program, a teaching assistance program, programs for the electronic release of student information, a program for the teaching load, an online identification program, and a program for students abroad, in addition to the scholarship program, and a new world program for the Deanship of Faculty Members and Staff Affairs.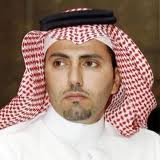 Al-Hussein said the programs show not only the depth of cooperation and magnitude of responsibly on the shoulders of the Deanship of e-Transaction and Communications, but also its keenness to elevate the standards of KSU.
Dean Alwagait said that the deanship would continue their work to support and contribute to the technical advancement of KSU across all sectors.
He also thanked Al-Hussein for honoring him and for his work in fostering and developing communication between the University's deanships and sectors.
E-Transactions at the Deanship of Faculty and Personnel Affairs, is run by Mansour Al-Motairi, who works closely on all e-programs at KSU.
Related News