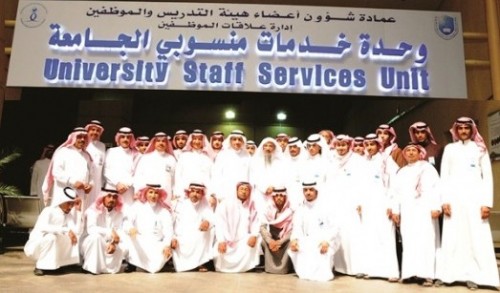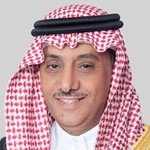 King Saud  University Rector Badran Al-Omar is inaugurated the Governmental Services' Week Fair. This fair (15th -19th November) was organized by the Deanship of Faculty Members and Personnel Affairs with the participation of a number of important governmental bodies represented in the Ministry of Civil Services, Ministry of Interior, General Directorate of Passports, the General Directorate of Traffic, Ministry of Civil Affairs, Ministry of Labor Affairs, and Ministry of Foreign Affairs.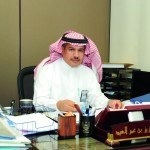 Abdulaziz Al-Eid, the Fair's Organizing Committee Chairman and the Head of Employee Relations Department, stated that the Deanship organized this fair to identify the governmental services provided with the cooperation of the participating governmental bodies which devotedly and cooperatively provide such services to KSU's employees and academic staff members. He moreover thanked the University's rector and the participating governmental bodies to support such fair and requested all the University's employees to visit the fair from 9 am to 2 pm to benefit the most from it.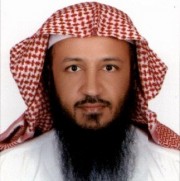 Abdulmohsen Al-Nafisa, Head of the Employees' services unit which had been inaugurated by the University's Rector with the presence of vice rector, Abdulaziz Al-Ruwais, said that the Deanship, through this Unit, seeks to provide services to more than 28,000 academic staff members and employees to help them get the required services without having to suffer the pains of using different means of transportation and without having to get distracted from their scientific and practical roles in the University. He finally thanked the Deanship and the participating governmental bodies asserting the continuous cooperation among all concerned parties.
Al-Nafisa pointed out, in the same respect, that the services provided by the unit include civil affairs revision, the issuance of Birth Certificates, the addition of the newly born to the family ID, the finishing of Passport issuance procedures and the renewal of the passports for the Saudi Arabians as well, the issuance of  recruitment visas for the housekeepers and drivers, the issuance and renewal of their lodging visas, the extension of the duration of the visa for the visitors coming to visit the employees of the University, the renewal of the driving licenses, the replacement of car plates at the General Directorate of Traffic and the other services provided inside the University such as the issuance of the Identification Cards of the employees.
Related News