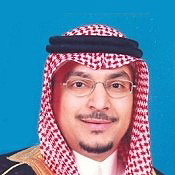 KSU' Vice Rector for Business Development Mohammed Al-Sudairy inaugurated workshop entitled, 'The Real Investment in University' on 22 December at Dirriyah Hall.
The workshop was aimed to explore major problems in university, and find out ways how to cope up with that problems and make proposal how to implement solutions for problems.
Vice Rector Mohammad Al-Sudairy welcomed and appreciated to all the participants from different universities and companies in his speech.
Further he stressed the investment in university should be seeks to further development and also based on cumulative efforts form area experts. He also said, before investment we have to diagnose the possible challenges and find out ways to overcome those possible challenges.
Bandar Al-Otaibi managed complete workshop.
Related News