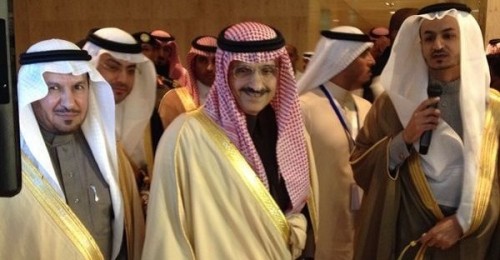 KSU participated in Saudi Healthcare Innovation Conference 2013 at King Fahd Medical City. The conference was sponsored by his highness Prince Khalid bin Bandar bin Abdulaziz, Governor of Riyadh with the presence of Minister of Health, Dr. Abdullah Al-Rabiah, along with a number of experts in the field of innovation development and both local as well as international experts.
Governor of Riyadh and the accompanying delegation visited KSU's display section where he was received by Ibtisam Al-Olayan, Assistant Vice Rector for Graduate Studies and Scientific Research – Developmental Programs.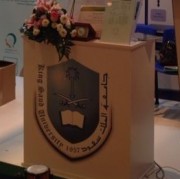 She gave a detailed explanation of the system and pointed out that it is one of the University's national initiatives and that it would contribute to the achievement of the Custodian of the Two Holy Mosques, King Fahd bin Abdulaziz Al-Saud's vision of transferring the kingdom's economy from an oil-based economy to a knowledge based economy.
Accordingly, this system was formed to establish social partnership and real industry through supporting inventors and creative people by means of a number of programs within the framework of the system ; namely:Intellectual Property and Technology Licensing Program (IPTL)- for patent registration at KSU. Besides, there is a number of innovation units which provide support for inventors and creative people by providing the primary form, laboratories and tools.
In addition, there is Riyadh Center for Incubators which sponsor projects to transform them to start-ups ready to access the market where investments are made by Riyadh Wadi Co. KSU's investment agent.
Governor of Riyadh expressed his ultimate joy and satisfaction with KSU's achievements, the support it provides and the appropriate environment and atmosphere it creates for such innovators. Ibtisam Al-Olayan received a shield as a reward for the distinguishable participation in the fair.
Related News