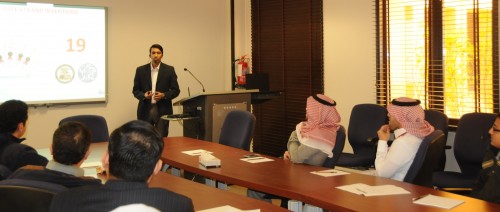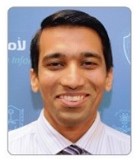 Center of Excellence in Information Assurance (COEIA) at King Saud University organized a Seminar on 7 Jan. 2014 on the topic of "Cybersecurity: Challenges and Concerns". The seminar was presented by Dr. Muhammad Khurram Khan who is an Associate Professor of Cybersecurity at CoEIA, King Saud University
Dr. Khurram discussed about the recent technological innovations that have enabled the substantial growth of cyberspace, which is transforming the way people, corporations, and governments interact, collaborate, and conduct their daily work. He mentioned that Cyberspace includes nearly every part of our daily lives, including the broadband networks, critical infrastructure, military & intelligence networks, education, healthcare, media & broadcast, financial institutions & business organizations, and the massive grids that power a nation.
In addition, Dr. Khurram discussed that the cyberspace has become the fifth dimension of warfare in addition to sea, land, air and space battles. He identified that in the modern Information and Communication arena, threats and attacks to cyberspace are one of the most serious economic and national security challenges for a country. Recent incidents of cyber-attacks are a topic of hot discussions among the leadership of several countries and nations. Therefore, there is a dare need to secure cyberspace to ensure the growth of a nation's economy and protect its sovereignty.
The goal of this lecture was to describe the fundamental concepts and theories necessary to understand key aspects of Cybersecurity and its anatomy, demonstrate some contemporary practical examples, and motivate audience for implementing Cybersecurity measures in their work and organization.
Dr. Khurram stressed on developing the local capability in cybersecurity in the Kingdom of Saudi Arabia. He encouraged the government and stakeholders to develop national cybersecurity strategy; awareness, educational and training programs; and initiate cybersecurity incubators and entrepreneurship schemes to protect the nation from emerging cyber threats and vandalism.
The seminar was attended by several researchers, faculty and staff, and students. The lecture was also broadcasted through webinar and over 100 people attended it online worldwide.
Dr. Khurram is an extremely innovative academician and scientist who is an inventor of more than half dozen U.S. patents and published 175 research papers in International Journals and conferences. He secured several national and international research grants under the domain of information security. Further, he is senior member of IEEE (USA), IACSIT (Singapore) and a member of IEEE technical committee on security and privacy (USA). Dr. Khurram is an editor of 14 International Journals among them, 8 journals are ISI-indexed published by Elsevier, Springer, Wiley, Hindawi, and IEEE. Dr. Khurram is a serial international speaker at several Universities, institutions and conferences.
Related News