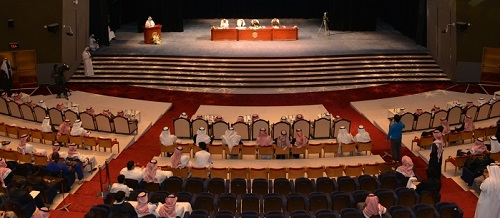 Dean of Student Affairs organized annual open meeting to KSU students with Rector Badran Al-Omar on February 10, 2014 at Hamad Al-Jasser hall.
The annual open meeting opened with verses from The Holy Quran and Fahad Hamad Al-Qurainy Dean of Student Affairs welcomed to Rector Al-Omar.
Moreover, Rector Al-Omar stated all the students are as my family and said don't stop extracurricular activities with academic. Rector Al-Omar also responded questions arise by disabled and specialized students.
Further, Abdullah Salman Al-Salman, Vice Rector of of Academic and Educational Affairs, stressed in his talk on the importance of the preparatory year which enable students to enroll in college that Al-Salman also wants preparatory year should allows multiple options and support services for university students.
Vice Rector Abdulaziz Al-Ruwais responded on questions and problems related to transport and services.
The annual open meeting was attended by vice rectors, deans of colleges and deanships, faculty members, administrative representative as well as male and female students.
Related News