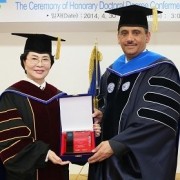 Gachon University form Korea awarded honorary doctorate to KSU Rector Badran Al-Omar in public administration for his achievements in the field of health and hospitals and continued hard work towards achieving the goals of King Saud University. KSU tied up strategic alliances and collaborative relationships with leading universities around the world under the leadership of Rector Al-Omar.
The Rector Al-Omar visited Republic of Korea on invitation of Gachon University for accepting honorary doctorate for his services and achievements with KSU delegation from April 29, to 2 May, 2014.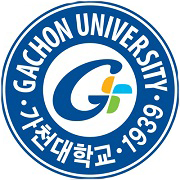 The visit also included a discussion for cooperation and promote scientific and academic relations between King Saud University and the Korean academic and scientific institutions.
Delegation of KSU headed by the Rector in presence of Saudi Arabia Ambassador for South Korea Ahmad Al-Barrak and cultural attaché Dr. Hesham Khadawardi visited to Gachon University on 30 April, for admitting honorary doctorate.
On this ceremony Rector Al-Omar expressed his thanks and gratitude to Gachon University for giving him an honorary doctorate degree, for supporting and development of higher education in Kingdom, King Saud University under the auspicious guidance of custodian of two holy mosques and Crown Prince.
Further, Rector Al-Omar praised to Dr. Khalid Al-Angari, minister of higher education for his distinct and continuous efforts to improve the level of higher education and the continuous improvement in its performance.
In addition, KSU delegation visited to National University of Seoul and Korea Advanced Institute of science and technology (KAIST), where Rector Al-Omar discussed several possible areas of cooperation, including scientific field research, and development of graduate programs through the scholarship of teaching assistants, lecturers, as well as to promote the exchange of faculty and student exchange program with both academic institutions.
Related News