HRH Prince Salman bin Sultan bin Abdulaziz, the Deputy Defense Minister visited C4I-CAS Lab at King Saud University was greeted by  Abdullah Alghamdi, Director of  C4I-CASon last week of January, 2014.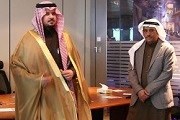 HRH Prince visited College of Computer and Information Sciences, where he also toured to C4I-CAS Lab and listen to a detailed and comprehensive explanation of information then left his headquarters where he was seen off by the Professor  Abdullah Alghamdi with other officials.
HRH Prince Salman bin Sulta was born in Dhahran in 1976. His father is late Prince Sultan bin Abdulaziz, former Crown Prince of Saudi Arabia. Prince Salman bin Sultan has a bachelor's degree in military sciences and attended several courses in security and intelligence matters.
Related News