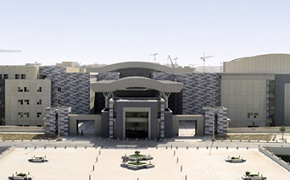 King Saud University held a ceremony to honor Vice Rector of Female Students Affairs Fatimah Jamjoom for her achievements and efforts during her last three years.
All the deans and vice deans attended the ceremony. Dr. Fatimah expressed her happiness about KSU achievements that happened during the last three years. The most important achievements were the moving to the Girls' Campus and the strategic plans which guide the students to the path of success. At the end of her speech Dr. Fatimah wishes for all more progressive success and future growth.
Dean of the humanities departments Benayeh M.S. Al Rasheed expressed her proudness of the distinguished efforts which has been done by Dr. Fatima being the first vice rector of the female student's affairs at KSU.
Further, dean of the medical studies and sciences departments Einas Al-Eisa also praised to Dr. Fatimah Jamjoom's achievements and services in the academic and administrative fields.
In addition, many from the audience delivered words of thanks for Dr. Fatimah Jamjoom to appreciate her contributions to the girls' Campus. Among the audience there was the vice dean of applied sciences college, she was the first master student in Dr. Fatimah's classes, she also talked of assiduous in giving the student her all experiences.
Related News