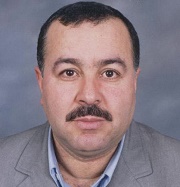 Professor Ahmad Bouridane from Northumbria University at Newcastle, visited KSU to meet his student Duaa Alsaeed, from the College of Computer and Information Sciences, Department of Information Technology and the internal supervisor Dr. Rabia Jafri on February, 8 2015.
Professor Bouridane also presented a seminar during his visits entitled "Perceptual Hashing and Data Hiding Technologies: A practical Approach" for KSU faculty.
Ahmad Bouridane is a Professor in Image Engineering and Security at Northumbria University at Newcastle (UK), and his research interests are in imaging for forensics and security, biometrics, homeland security, image/video watermarking and cryptography.  He has authored and co-authored more than 250 publications and one research book. In addition, Professor Bouridane is a senior member of IEEE.
Related News