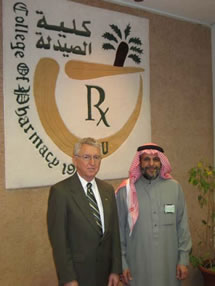 Earlier this month, the Massachusetts College of Pharmacy and Health Sciences (MCPHS) has received a $450,000 grant from King Saud University (KSU) in Saudi Arabia to assist KSU's College of Pharmacy in developing its clinical practice faculty, implementing a Doctor of Pharmacy curriculum, creating post-graduate residency and fellowship programs and conducting research. MCPHS President Charles F. Monahan and KSU Rector Abdullah Al-Othman formalized the partnership at a ceremony at the University's Riyadh campus.
President Monahan, who said, "We are very impressed with the quality of pharmacy education at King Saud University and its clinical sites", was accompanied by MCPHS Vice President for College Relations George Humphrey and Caroline Zeind, Chair and Professor of Pharmacy Practice at MCPHS-Boston. "This collaboration," he said, "Will provide both institutions with a unique opportunity to develop cross-cultural and international perspectives on pharmaceutical care."
In addition to meetings at King Saud University, the MCPHS delegation met with officials at King Faisal Specialist Hospital and Research Center, King Khalid University Hospital, the Saudi Food and Drug Authority and the Ministry of Health.
With almost 80,000 students on several campuses of King Saud University which established in 1957 as Riyadh University is the largest institution of higher education in the Kingdom of Saudi Arabia.  KSU's  College of Pharmacy is the oldest in the country.
MCPHS collaborates with a number of international universities, such as the Ireland's Trinity College, Cuba's University of Havana, Perú's Catholic University of Santa Maria and Japan's Niigata University of Pharmacy and Applied Life Sciences.