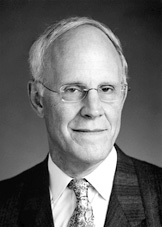 On Sunday, King Saud University Rector Abdullah Al-Othman, along with Deputy Rector of Branches Affairs Ali Al-Ghamdi, received the 2004 Nobel Prize Winner in Physics Professor David Gross.
The KSU officials present welcomed their guest, stating that our world today has become a veritable "village", where knowledge is within everyone's reach and hardly specific to a particular nationality or country.
Rector Al-Othman delineated King Saud University's grand vision to attain international preeminence in academic and research through transforming itself into a research-oriented institution as part of the Kingdom's plans to establish a knowledge-based economy. Al-Othman added that the launching of the King Abdullah Foreign Exchange Program, in which 70% of the students will pursue their education in American universities, attests to the Kingdom's commitment to higher education; indeed, KSU has shown their commitment through a series of contracts with renowned universities and research institutions around the world in order to produce the finest professionals and scientists in disciplines urgently needed in the Kingdom.
Professor Gross expressed his admiration of the newly adopted efforts of the Kingdom and of the University's determined pursuit of excellence, and he offered recommendations and encouragement for carrying out the developmental programs at the University.  These included the following:
Supporting faculty members in the development and research process at the University;
Creating incentives for faculty members to flourish;
Lowering teaching loads for faculty conducting distinguished research work;
Establishing a strategic plan to upgrade scientific departments; and
Forming committees of field experts.
Professor Gross also recommended the designation of a committee for reviewing and assessing the academic performance of its Department of Physics.