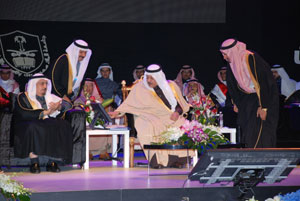 On Sunday, the Seminar on Technology and Sustainability in Architecture, organized by the King Saud University's College of Architecture and Planning, opened with a speech by Prince Nayef Aziz, Second Deputy Prime Minister and Minister of the Interior.
Following Prince Nayef's introduction, more than 100 researchers and specialists from more than 42 countries watched a video presentation that outlined the objectives of the seminar, aimed at exploring the field of sustainable architecture. Saudi Arabia seemed the perfect host for such an event, as it is a rapidly developing nation witnessing an awe-inspiring growth in building projects. Considering this growth, this seminar will hopefully contribute to addressing the architectural challenges and solutions needed to move the Kingdom into the ranks of the world's developed nations.
In his speech, Prince Nayef said that the Kingdom is witnessing unprecedented growth, and that despite the great availability of financial resources in the Kingdom, they are not enough to sustain such growth, unless managed with clear and accurate care.
"The success of any nation depends primarily on a strong work ethic and the contributions of an educated labor force." said Prince Nayef. He also expressed his great thanks to Professor, Dr. Abdullah Al-Othman, Rector of King Saud University, and the University's professors for their dedicated efforts.
For his part, Professor, Dr. Al-Othman stressed the need for Saudi educational institutions to redouble their emphasis on scientific and research projects aimed at promoting science in the kingdom, and he thanked the Prince for supporting King Saud University in its vision to achieve global leadership in the academic arena.
KSU's Rector, Professor, Dr. Al-Oathman identified some key objectives of this vision:
The first objective regarded the increase in KSU's global academic standing, which requires increased qualitative research and notable achievements by its faculty. King Saud University has recently been ranked as one of the world's top 500 universities by the highly-regarded Shanghai Rankings. KSU's Rector, Professor, Dr. Al-Othman stressed that the University must look at these ratings as a mere stimulus to innovation and excellence, yet certainly not as an end.
Second, he said that King Saud University must work with leading medical researchers and developers of advanced technologies. Examples given were the efforts of KSU's Scientific Council of the World Institute, the Prince Sultan Institute for Research on Advanced Techniques and the Center for Health Research, all who have worked extensively with distinguished international organizations and Nobel laurates.
Third, he cited KSU's track record in attracting talented scientists and researchers from around the world. In recent years, the University has collaborated with some 180 international scientists from abroad, including 15 Nobel laureates.
Finally, he noted that King Saud University is collaborating with other universities in building a knowledge society through the establishment of the Riyadh Techno Valley (RTV), which is a gateway for the Kingdom's developing knowledge economy, with investments of $2.2 billion. Through government investment and partnership with the private sector, RTV has been launched by His Royal Highness Prince Salman Aziz.
KSU's Rector, Professor, Dr. Al-Oathman also expressed how proud he was to be hosting the seminar's distinguished collection of experts, scientists and world-class researchers in the fields of technical sciences and architectural sustainability. He hoped that the seminar would produce creative ideas, discussions and productive collaboration, and help improve the advancement of architectural design.