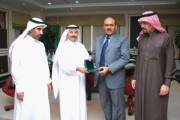 Pakistan's Professor Mohammad Ashraf, the Dean of the Faculty of Science at the University of Faisalabad, visited King Saud University this week. A specialist in biotechnology research, with expertise in space science and plant physiology, is said to be among the top five researchers in Pakistan, currently a member of the quality of scientific research institutions in Pakistan, as well as a scientific-research adviser for several renowned international institutions.
He was received by King Saud University's Vice Rector for Graduate Studies and Scientific Research, Prof. Ali Al-Ghamdi, who celebrated the auspicious visit, as the influential Pakistani medical expert provides KSU faculty and students with important perspective and experience in the field of medical research.
Dr. Ashraf's visit is yet another invaluable piece of the University's efforts to attract distinguished scholars around the world, efforts which are contributing to the rapid progress in research and expertise at King saud University.
During Dr. Ashraf's visit, he held extensive discussions with KSU's medical community in regard to many of his groundbreaking research projects. His extensive research has been quite acclaimed, as many of his projects have been conducted at the most competitive universities in the world, as ranked by both the influential Shanghai Rankings and the Times Higher Education-QS World University Rankings.