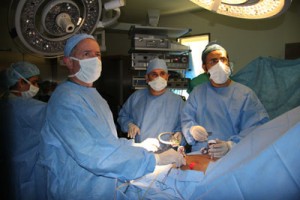 A medical procedure tested at the King Khalid University Hospital shows great promise for people with spinal cord injuries who are fully dependent on a ventilator.
A medical team headed by Dr. Sami A. Alnassar, a thoracic surgery consultant and professor at King Saud University, performed the surgery on a patient who became a quadriplegic after injuring his spinal cord in a traffic accident two years ago and has been in intensive care ever since.
Also on the medical team were Waseem Hajjar, a consultant in thoracic surgery, Dr. Abdelazeem Eldawlatly and social worker Lina Yahya.
The microscopic implantation surgery on the diaphragm muscle, which reverses the paralysis of the breathing muscles, was the only hope for the patient to live independently from a respirator.
The procedure also benefits those with neurological problems in the brain or chest muscles that force them to be dependent on a respirator. Some patients dependent on a ventilator before the surgery might be able to leave intensive care – as well as return home – by using a small hand-held device to assist in breathing.
Dr. Nassar said the surgery is considered quite safe and will be used in any of the major hospitals in Riyadh once medical staff are trained in the procedure.