Kin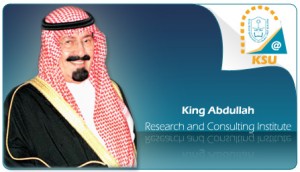 g Saud University's  will provide scientific and research services to Saudi Arabia's Ministry of Foreign Affairs for three years, under an agreement reached March 21, 2010.
The series will include securing advisers and consultants, establishing workshops and producing studies and reports.
Minister of State for Foreign Affairs Dr. Nizar Madani signed the pact, with King Saud University Rector Dr. Abdullah Al-Othman.
"This is an excellent opportunity to look at what is going on in the university and the tremendous efforts made by the rector and the staff of professors, officials and administrators," Dr. Madani said, praising the university's scientific, intellectual and cultural growth and recognizing its influence throughout the Kingdom and its growing stature in the global scientific community.
Dr. Mohamed Alharthi, Dean of the King Abdullah Institute for Research and Consulting Studies (KAI), said that the Institute will also be an active partner, as it has been with various community organizations, in providing expertise and building King Saud University's reputation as a global leader.
"We will continue to develop our capacities and the use and exchange of experiences to contribute effectively to the achievement of national sustainable development," Dr. Alharthi said, adding that the King Abdullah Institute has the capacity and qualified human resources necessary for success in this role.