P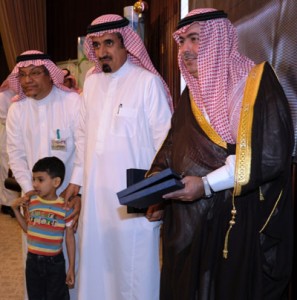 rince Turki bin Saud and Dr. Abdullah bin Abdurrahman Al-Othman, among other dignitaries and specialists, were present this week at the King Khalid University Hospital to launch a national awareness campaign for autism. Also present was Dr. Laila Y. Al-Ayadhi, a leading professor of Neurophysiology at the KSU-Autism Research and Treatment Center, which plays a key role in the autism research.
King Saud University Rector Dr. Abdullah Al-Othman said that Islam is a religion of great humanity, and that the campaign can make a great difference for the lives of Saudis with the disability.
Prince Dr. Turki bin Saud bin Mohammed Al-Saud, the Vice President for Research Institutes at King Abdulaziz City for Science and Technology (KACST) gave thanks to Saudi King Abdullah for his unconditional support for the advancement of scientific research at Saudi universities, while Professor Mussaad Al-Salman, KSU's Dean of the College of Medicine, said that he is proud that King Saud University, and specially the Faculty of Medicine and King Khalid University Hospital, are at the center of autism research, and important players in better diagnosing and treating this prevalent disability. He noted the importance of the fruitful cooperation between the University and KACST. Dr. Al-Salman said that KACST continues to collaborate with KSU researchers of autism, but with research centers such as KSU's research centers, which specialize in obesity, liver disease, and sleep disorders. This constructive cooperation aims to benefit not only the research community and the University, but the Saudi nation as a whole.
It is worth mentioning the King Saud University Portal Department, part of the Deanship of e-Services and Communication (ETC) services broadcast the event live on the KSU Website (ksu.edu.sa).