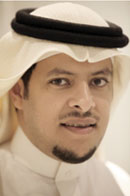 The Deanship of e-Transactions and Communications (ETC) is set to officially launch King Saud University's redesigned Arabic and English Websites, an ambitious project meant to expand and improve the ways that KSU faculty, staff and students use the internet. As the KSU main pages, ksu.edu.sa/sites/KSUArabic and ksu.edu.sa are the gateways to the world, the new Web site designs and added features will go a long way in promoting King Saud University's extraordinary advances and development.
The Arabic and English main pages, redesigned under the leadership of Engineer Abdulaziz Al-Oraij, will offer both visual and content improvements, utilizing the latest Web technology. The project has required months of intense research, analysis and Web architecture, and will inevitably affect every KSU user in many ways.
In addition to a crisper and more attractive look, the new Web sites will contain Shasha, an innovative Arabic alternative to YouTube, which aims to present the world's most comprehensive collection of Arabic language videos, and an incomparable source of knowledge and ideas in Arabic.
Engineer Al-Oraij says that ETC "envisions Shasha as an integral part of university life at KSU, as faculty and students will be able to utilize it for lectures, projects, conference presentations and much more."
In that news plays such an important role in raising King Saud University's international presence, ETC has endeavored to improve the scope and quality of King Saud University reporting and presentation. These innovations and many more added features will be the subject of the Saturday's Web launching.
Indeed, after countless hours of preparation and work, King Saud University's national and international Web presence will be entering in an exciting new era.