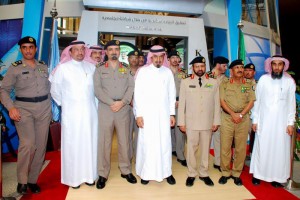 King Saud University Rector Abdullah Al-Othman and General Saeed Al-Qahtani of the General Directorate of Border Guard have signed an official agreement authorizing King Saud University to train public security officers, in order to upgrade national security forces and security agencies.  The training program will focus on training security professionals according to their specific roles and responsibilities. Security officers in Saudi Arabia, depending on their specific duties, meet with very unique situations in their daily interaction with citizens and residents; subsequently, security forces will receive valuable training courses, conducted by KSU professionals and based on academic research done by King Saud University.
The King Abdullah Institute for Research and Consulting Studies (KAI) signed another memorandum of understanding with the General Directorate of Border Guard, which will give crucial support the new program. This agreement will provide added support for the border guard training in the form of research and consultation, which will be provided by the University, whose experts will develop and submit proposals to support the needs of the Directorate General of Border Guard.
Following the signings, Al-Othman commented on the partnership's commitment to serving the community, as well as Saudi Arabia's many professional and military institutions. He praised the willingness of institutions, such as the General Directorate of Border Guard, to value the academic field, as well as making it possible for officials of these institutions to benefit from research.
Dr. Al-Othman noted that scientific programs within King Saud University, including research chairs, the King Saud University program to Attract Nobel Award Winners and centers of excellence, "Aim to interconnect the University, civil and government communities." The Rector concluded his statement by thanking the Directorate General of Border Guard for its confidence in the University and the endeavors of its qualified academic and scientific researchers.
General Al-Qahtani noted that King Saud University was chosen as a partner by virtue of its unique position in the world as a respected world-class institution for research and development.
Dean of KAI, Mohamed Alharthi, said that the terms of this three-year agreement would begin immediately after the signing ceremony. He explained that the scope of the memorandum is to provide the General Directorate with proven training techniques and approaches. Employees of the Coast Guard, for example, will receive technical advice through full-time King Abdullah Institute for Consulting and Research advisors. The Institute will  develop videos that address various training needs and provide training packages that instruct officials about the specifications and international standards of their jobs.
Dr. Alharthi concluded that the KAI strives to be an effective partner of all Saudi institutions.
Related News