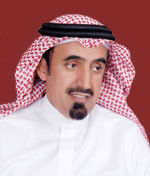 King Saud University has achieved a new milestone for the Kingdom of Saudi Arabia winning a United Nations award for improving the delivery of public services. The international recognition for winning the 2010 United Nations Public Service Award (UNPSA) earned KSU Rector Abdullah Al-Othman and Vice President for Development and Quality Hamad Al-Sheikh congratulations and gratitude from Dr. Abdulrahman Al-Jaafari, Governor of the Communications and Information Technology Commission of Saudi Arabia (CITC), who stressed in an address that the successes achieved by King Saud University have been the product of wise leadership and strategic integration between various state institutions and the Saudi business sector.
This initiative was awarded this distinguished award for developing an e-learning environment for KSU students, staff, and faculty. As a three phased initiative, KSU's Deanship of e-learning and distance learning began its ambitious endeavors by building skills and awareness among faculty for delivering courses through online education programs and ensuring that faculty understands e-learning processes. Phase two provided technical support for student awareness and use of the e-learning programs, and paved the way for a gradual transition from traditional course formats to e-learning. The final phase encouraged research and scientific publishing in the field of e-learning.

Dr. Sami Al-Homod, Dean of e-Learning and Distance Learning, played a significant role in earning the deanship UN accolades. He said that his deanship seeks to improve the efficiency and effectiveness of education in Saudi Arabia by incorporating e-learning in all educational activities of the University.
The UNPSA is announced annually, and acknowledges those who have made contributions in innovation in the field of public service. The award is based on four criteria: the promotion of transparency and accountability, improving the delivery of public services and the use of technology and communications to disseminate government information, and the institutionalization of information management within the government.