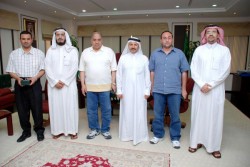 On Monday, Vice Rector for Graduate Studies and Scientific Research Ali Al-Ghamdi welcomed yet another distinguished academic to King Saud University. Fawzy Hosny- Samuel, the chairman for Advanced Technologies of Light Metals for Automotive Applications (TAMLA) at the Université du Québec à Chicoutimi (UQAC), traveled to Riyadh in order to discuss possibilities of Joint research cooperation in the field of engineering between the Kingdom's largest university and Samuel's distinguished Canadian university.
Professor Abdulrahman Al-Ahmari, Executive Director of KSU's Center of Excellence for Research in Engineering Materials (CEREM), said that not only were a number of collaborative projects discussed, but that Dr. Samuel was accompanied by several UQAC doctoral students, who will work for four weeks under the close supervision of Dr. Al-Ahmari and share their ideas and experiences.
Professor Fawzy Hosny-Samuel, during his stay, will provide a series of workshops in the field of engineering. His chair, TAMLA, focuses on research aimed at developing advanced aluminum casting alloys used in industry, especially in the automotive sector.